Another Epic World Flood Is At Hand
A gigantic wave is about to sweep across the nation and around the world.
Are you old enough to remember when Short Wave and AM radio were all we had? There was no FM radio and no television. Do you remember when you had to sit in front of the radio receiver and constantly move the tuning dial back and forth to keep the station clear because it kept drifting?
Then came TV and FM radio. That was real change, and it was an enormous change, but nothing compared to the worldwide flood that is approaching.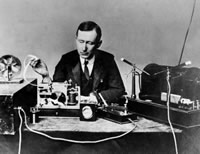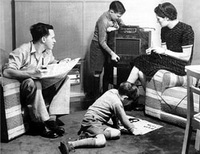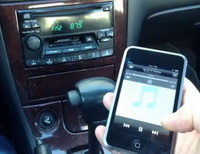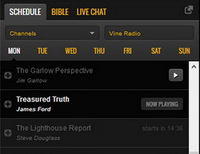 There is another change about to take place, and this change is going to flood the world. Right now it is just a ripple - a small wave, but not for long. Get ready for it. A gigantic wave is about to sweep across the nation and around the world. On Demand Radio and Television are here now, but as we said, they are presently only making ripples.

VineRadio.org would like to introduce you to tomoroiw's radio today. This is our version of the latest in radio technology, Multi-Channel On Demand Radio and Television.

Sure, you know of some that are already online, but they are subscription services. Vine Radio is, and always will be, free. We never ask for and never accept donations. We will provide 24/7 On Demand broadcasting of some of the old boys from the past. They were dynamic Bible teachers and preachers then and nothing has changed to make them any less dynamic, plus our new On Demand service consisting of two different radio channels (English and Spanish), four television channels, including one kids channel, plus one film channel; over 100 different Christian ministries can be heard daily. We will broadcast fresh daily programming on our schedule, but our schedule may not be compatible with your schedule; after all, we are broadcasting around the world. Therefore, if we are not broadcasting what you want, when you want it, click a button and listen to or watch what you want, when you want it. We at Vine Radio believe like the old burger commercial said, "Have it your way." We are not the king, but we are broadcasting the message of the King.
You have accomplished the hard part, you have found us. Now, check us out. There are only a small handful of stations able to provide programming like you will find on VineRadio.org where you turn to learn as we spread the Gospel of Jesus Christ around the world.